Point Guards
8. Rod Strickland
7. Mookie Blaylock
6. Mark Price
5. Tim Hardaway
4. Penny Hardaway
3. Kevin Johnson
Kevin Johnson was one of the toughest little guys this league has ever seen. He was an all-around point guard that liked to do everything himself. KJ averaged 20 points and 9 dimes four times during the '90s and during his first two years in Phoenix ('89 and '90), Kevin helped the Suns make two straight Western Conference Finals appearances. When he finally got help in the form of Charles Barkley in 1993, the Suns finished with a league best 62-20 record, but lost to the Bulls in the Finals in six games – but when you make the Finals and lose to MJ and the Bulls, I would still call that a very successful season.
Kevin was a fearless slasher and he penetrated the paint and either dished it to Sir Charles or hit "Thunder" Dan Majerle for a three, making them an all-around force to be reckoned with. He had the ability to take over a game with his scoring and he played pretty damn good defense too. All in all, he was a leader on the court and it carried off the court as well as he is currently the Mayor of Sacramento.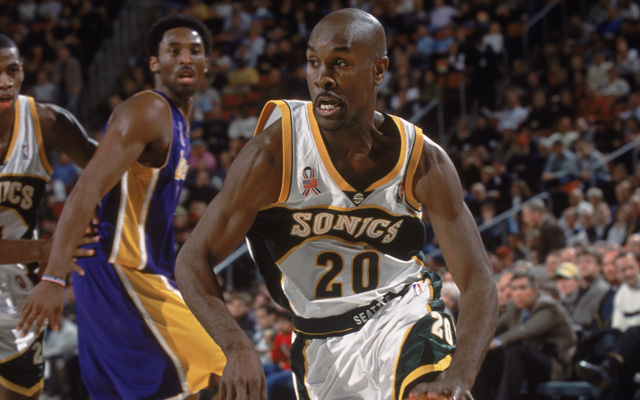 2. Gary Payton
Gary Payton established himself as the leagues best defensive point guard right out of the gate. During his first two seasons ('91-'92), he snatched two steals a game while turning the middle of the pack Sonics into perennial contenders. Gary wasn't the best shooter but he still managed to put up 20 a game between 1995 and 1999. He broke defenders down and penetrated the lane with ease. Most of his points either came in the paint or from the foul line and if he didn't lay it up, he either kicked it out to Detlef or hit Kemp for a sick alley-oop. Payton hung is hat on defense, though. He's one of only four guards to ever win the Defensive Player of the Year Award (1996) and his nickname was "The Glove" because of his propensity for thievery of basketballs. There is no doubt he is the number two best PG of the 1990's – number two of course because this next guy was just an animal.
1. John Stockton
John Stockton played nineteen seasons in the NBA. In all nineteen, Stockton led the Utah Jazz to the playoffs – a underrated stretch of dominance overlooked by an obvious hole in the playoffs. During an incredible run in his career, Stockton led the league in assists per game nine seasons in a row. Locating his teammates and getting them the ball in ways that nobody had seen before, and probably won't see for a long time. The man was more than just a facilitator though as he wreaked havoc on the defensive end too. A throne could be built out of the amount of steals he had. He retired in 2003 as the NBA's all time leader in assists and steals with 15,806 and 3,265 respectively, something I feel like he doesn't get enough credit for – people often say it's only because he played for two decades, but that shouldn't take away from the fact. While his legacy is dampened by never having won a championship, Stockton is the example of a true point guard and one of the best of all-time at his postion… and that is not even debatable.